IN MEMORIAM || Gone but not Forgotten
Charlie

Born October 1993 and went to rainbow bridge on 25 September 2005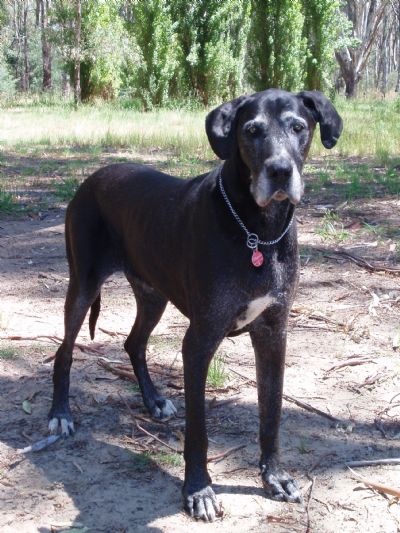 Charlie was my first great dane. She was a very active and athletic girl, even in her golden years.
She was an excellent jumper and would often jump out of the yard with a 6ft fence to play with the kids in the park nearby.
One of Charlie's most noted characteristics was her smile, when she was happy she would run up to you with her mouth wide open, teeth showing and make a weird snorting noise, many visitors were frightened by her warm greeting .
She was the boss and educator of our yard....she was an excellent foster mum to the new puppies that entered our lives she taught them essential manners that would get them through life and some sneaky tricks to get more treats out of mum and dad.
The river was a favourite playground for Charlie, she would love to come swimming with us and meeting up with some of the local dogs. Charlie was a huge part of lives and our memories of her will never be forgotten.

Rest in Peace ..lou lou
---
"Todd"
Born 11 April, 1997 and went to rainbow bridge on 14 August, 2004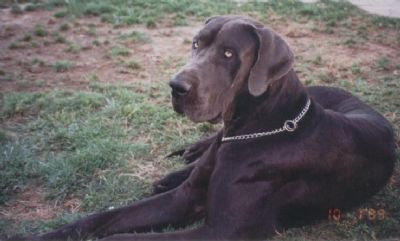 Todd was the definition of a gentle giant. He loved other dogs, cats, people and especially trees. Todd had a fascination with low lying trees and would slowly sneak under the branches of trees, sometimes pausing, with them gently massaging his back, it was a doggy form of meditation.
Todd started his show career with a bang taking Baby puppy in group, at his and my first show. Over his show career he attained his Aust Champion title easily with numerous Best in group, R/U best in group and class in group awards, no mean feat for a coloured dog.

While I was still showing Todd, my husband had begun showing our first pug Aust.Ch. Gailyn Court Jester, Todd could often be seen mingling it with the toy group, he had a fascination for anything small and to see him bow down to play with a Chihuahua was a sight to behold. Although not as boisterous as his soul mate Charlie, Todd was always there for a cuddle when you needed him.

Rest in Peace Puddles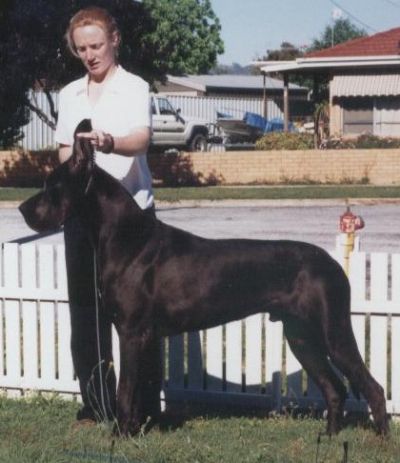 PEDIGREE
Sire : Boarhunters Nordman (Imp SWD) (BL)
S: Sirblu jamie of blubak (USA) (BL)
S: Am Ch. Sajcs sgt will b blu v rocon (USA)
D: Sirblu coleridge carol lmbrd (USA)
D: Boarhunters Lucky Lucy (SWD) (BL)
S: Boarhunters Ivanhoe (SWD) (BL)
D: Boarhunters Farrah (SWD) (BL)
Dam : Polbrooke Eschell (BL)
S: Zaradane Gift of the Gods (BL)
S: Aust Ch. Airlieblue shadesofapollo (BL)
D: Ashmill hazy summer (BL)
D: Polbrooke Elenor Rigby (BL)
S: Aust Ch. Airlieblue shadesofapollo (BL)
D: Danesworth arc fire (BL)
---
Thunderfire Desert Dueler
Neo ...the new boy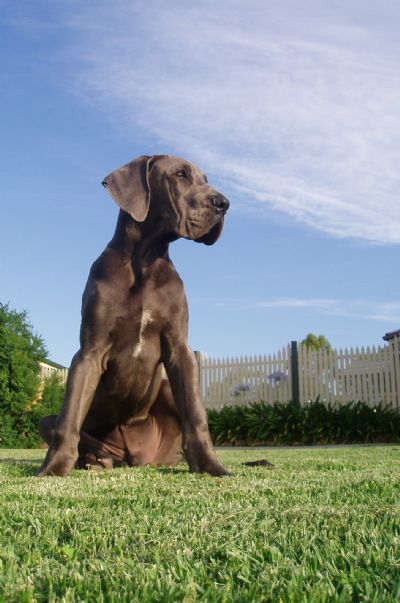 Neo @ 4 months old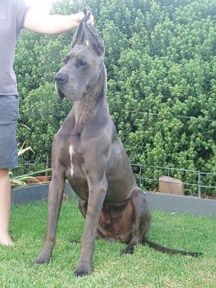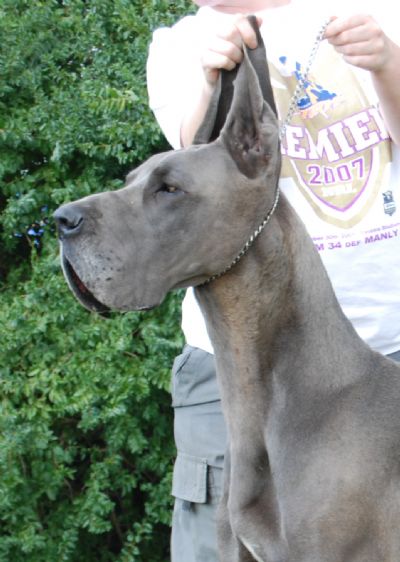 Neo @ 3 years old

SIZE, SUBSTANCE, BONE AND A HEAD PIECE TO BE ENVIED BUT MOST IMPORTANT OF ALL HE WAS A DELIGHT TO LIVE WITH

Neo was a charming, gentle giant, who drew attention where ever he went.
Neo had a fetish for toys and shoes. Most of Neo's photos showed some sort of toy or shoe hanging out of his mouth. This made finding your work shoes at 6 am in the morning a challenge, as they were never where you left them. Neo's other hobbies included playing soccer, tug-o-war, swimming & giving cuddles.
A true gentleman..gone but never forgotten..always in our hearts
Many thanks to Gayle Revill and David Ainsworth of Thunderfire Kennels for allowing us share our lives with Neo
PEDIGREE
Sire : Thunderfire Imperialmrch (BLK)
S: Thunderfire Big rock bluestn (Imp USA) (BL)
S: Lord Jons pal of Bluestone (USA) (BL)
D: Bluestones dark secret (USA) (BLK)
D: Hildydane My Madeleine (BLK)
S: Magnus Imperial (GMY) (HARL)
D: Hildydane black princess (BLK)
Dam : Nubarron Bodicea (BL)
S: Aust Ch. Thunderfire Attilathehun (BL)
S: Aust Ch. Thunderfire apolosceasar (BL)
D: HUNG Ch. Hamster Veronika (Imp HUNG) (BL)
D: Cosnco blue pearl (BL)
S: Astrodane GI Joe (BLK)
D: Thunderfire Galeteya (BL)
Contact Details
Mr Spencer Rich & Ms Tammy Warnock
Albury Region, NSW, Australia
Phone : 0417 459 733